Join the AMA Chartered
Hodaka Club
Important information concerning AMA waivers for minors participating in ANY events at Hodaka Days.
Waivers must be signed by both parents (if applicable).   If you need a waiver for a minor and both parents (with legal custody) will not be in attendance, you can click here to download the form or send an email to the webmaster and we will get you the paperwork to sign and have notarized.  The waivers must be notarized to be valid if the signatures cannot be witnessed at the event!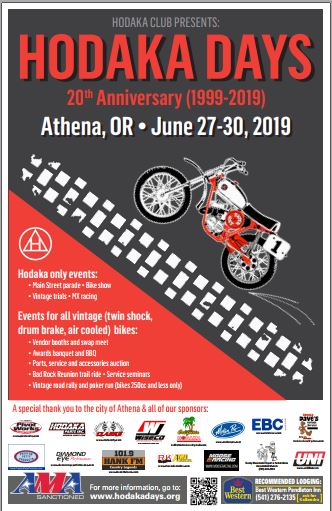 All the details of everything to do in the
Official 2019 HODAKA DAYS
Program...
Click here
Check out the short video on Athen'a Gem Theater from Yakima TV station KAPP and
Visit the Gem Theater Facebook page to see the progress on the project!
Pictured above is the 2013 charity raffle bike winner and Athena resident , Bud Schmitgall (center), Hodaka Club Board member Bob Whitman (left) and Athena's Gem board member Rob McIntyre (right). Over 1000 tickets were sold, but Bud beat the odds with just eight tickets and took home not only first place, but the second place prize, a PVL ignition, too!
Thurs 6/25
Umatilla County TT and Poker Run

Friday 6/26
Bad Rock Reunion Trail Ride
Swap Meet (open at noon)

Saturday 6/27
Pancake Breakfast
Main Street Parade
Swap Meet
Bike Show
Awards Banquet and Auction

Sunday 6/28
Open MX Track


BAD ROCK TRAIL RIDE 2020 AVAILABLE SOON !!!